Choose Evonex and benefit from an easy to use, super reliable cloud-based phone system that makes communication efficient and helps improve productivity in the workplace.
Evonex is a leading hosted telephony service that delivers all the features you need to keep in touch with your clients, customers and staff.
Top features include:
Integrate with Microsoft Teams and manage contacts with ease
Call, message or chat from desktop or mobile app
Improve customer experience with easy to manage IVR call queuing and call routing
Monitor and improve productivity with inclusive DDI level reporting
Combine presence status across telephony and MS Teams
The Evonex hosted telephony system operates in the cloud, meaning less equipment on site, saving on costly maintenance and upgrades.
Why choose Evonex Hosted Cloud Telephony?
Cost effective
Quick and easy to install, with no capital outlay. The Evonex cloud based phone system delivers all the functionality of a traditional telephone system, with advanced features that make communicating with your staff, customers and suppliers, easy and efficient.
Flexible
It's easy for staff to work from the office or remotely and remain contactable. Users will instantly see who's available and connect with them using Presence, Instant Messaging and Click to Call features, whilst being able to add and remove users with ease.
Choice of handsets
Benefit from a range of handsets and headsets to suit every requirement including; DECT phones, conference rooms, reception areas and boardrooms.
Manage Team Activity
Company Administrators and Site Administrators can easily manage remote teams, view team activity and make real time changes to music on hold, messaging, announcements and call routing.
Simple Licencing
Know exactly what you are getting. Evonex has a very clear licence structure, offering a standard licence for your telephony features and the option to add advanced applications for specific environments.
Features
Users have quick, easy and customisable access to enhanced features such as call forwarding, simultaneous ringing and much more via a desktop application.
Reporting
Benefit from comprehensive statistical reporting at call group and individual DDI level with informative charts and graphs to help monitor and manage your communications. Use filters to create and save your favourites, schedule reports via email to colleagues or download and print for reference.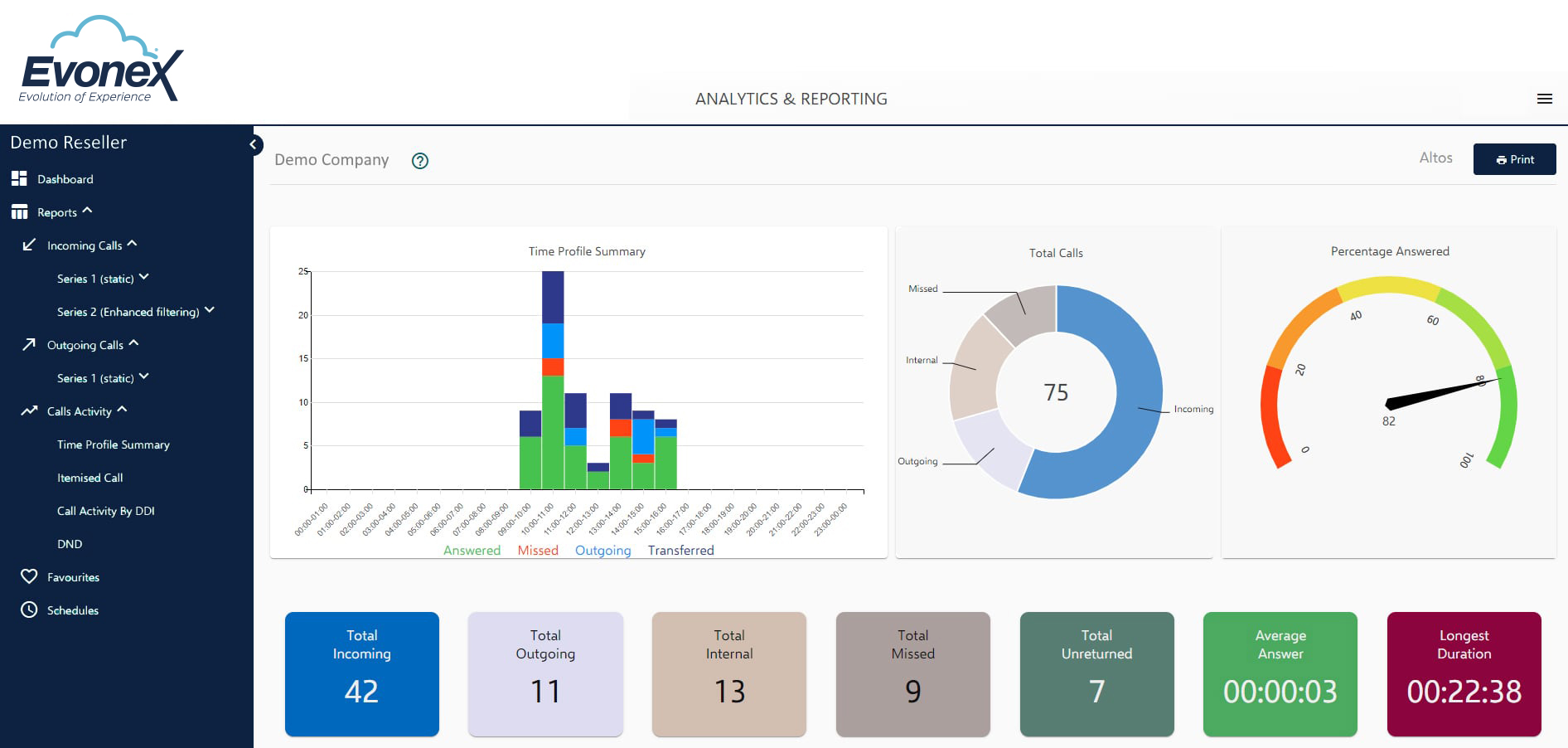 Activity Reports
Understand you your call traffic with charts, graphs and detailed downloadable reports, showing Call Ratios, Call Handling and Queue information with time of day analysis for wait times, answered, unanswered and abandoned calls.
Navigate and filter
View inbound and outbound call traffic via pre-defined activity reports which can be filtered to show the information most relevant to your business and monitor traffic distribution around remote call groups. The Evonex reporting module will provide the insight you need to effectively monitor agent activity, most calls answered, time on the phone and on DND (Do not Disturb).
Transform the way you work with an Evonex MS Teams Voice licence
The Evonex Teams Voice licence combines Microsoft Teams and hosted telephony to transform the way you work by creating a single platform for your communications.
Make and receive calls directly from the MS Teams desktop and mobile apps.
Retain all your existing telephony features, phone numbers and routing plans.
Benefit from a single reporting platform and the best calling packages.
No need for expensive hardware or capital outlay.
Integration is seamless and carried out at the time of installation of your new system.
To find out how much more you can get from MS Teams with Evonex speak to our Customer Experience team today.